It can sometimes be difficult to understand, so thought that you may enjoy this you tube video that I believe is sponsored by MSD.
The main point behind my posting this, is to show just how easy it is to strobe our timing marks as we increase RPM, allowing us to see not only the progressive advance, but the RPM at which the progressive is Full-In, and stops advancing. Or in other words...., TA (total advance)!
Unfortunately for us, these guys are doing a High Performance automotive engine, so the TA number will be quite different from what our goal is, but the procedure will be the same.
There are many such videos out there, and it's tough to find one specific for Marine...., but this one appeared to be pretty darn good.
Where the one man explains the 3 types of timing, we Marine Gear-Heads typically refer to these as BASE, Progressive (the curve) and TA (total advance).
I would sooner explain these in this order:
Initial or BASE.... (idle)
Progressive.... (as seen in the form of a curve which takes us from BASE to TA, as RPM increases)
Total ...... (upon reaching the full-in rpm where the advance discontinues)
A tad bit of clarity.
He mentions that "Initial" is the total advance while the engine is at idle. Technically speaking, "Initial" is the advance seen at this RPM
only
, and is simply a result of where the distributor housing is positioned,
and is always minus any Mechanical distributor advance
(or EST for the Merc TB Igntion system guys).
The engine used in this video is set up with a single timing pointer, whereas ours will have the timing tab with varying degrees and the large "V" notch.
Our "V" notch is the same as their single pointer.
Our harmonic balancer TDC marking, and any further balancer markings (degree decal), will be referenced against our "V" notch.
Their harmonic balancer degree decal will be very similar to the ones that we can buy.
NOTE: the balancer diameter determines which decal we purchase.
Notice that with the full degree markings, they are NOT using a digitally advancing timing light.
This is the
"Real Degrees/Real Time"
that I always refer to.
A note of particular importance:
At 3:20 min into the video, he begins to explain perhaps the most technical and critical portion of why ignition timing is so darn important.
And that is.......
LPCP.... (Location of Peak Cylinder Pressure)
(do a Google search on this for more info)
This is the mother load of Ignition Timing importance, so listen to what he has to say further into the topic.
With exception to his explanation of LPCP being at 10* ATDC,
he is dead on!
(many engineers will prefer 12* to 14* ATDC.... a goal of 10* ATDC may detonate a Marine Engine.... not good!)
None-the-less, our goal is to confirm and/or adjust the ignition advance as to achieve LPCP at the correct crankshaft angle.
(he explains this nicely)
NOTE:
their TA numbers of 34* to 36* are for this High Performance automotive engine, and would very likely ruin our Marine engines.
So we need to stay with our OEM numbers.
After about 6:50 min into the video, it will no longer apply to our needs, but it's all good stuff to watch.
Have fun with it!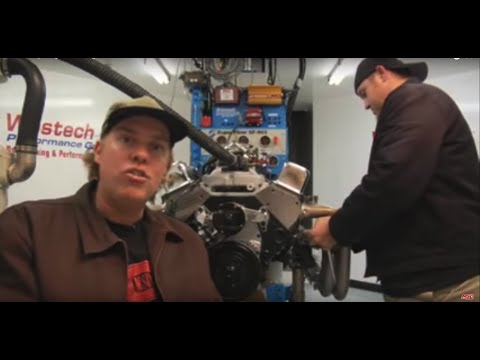 Regarding our mechanically advancing ignition distributors, any change to BASE or Initial, is an exact change to TA.
IOW, if we advance BASE by 2*, we are also advancing TA by 2*, and visa-versa.
Often we will need to "fudge" a bit on BASE advance in order to get the correct TA numbers that we want.
If fudging a degree or two does the trick, it's not a deal breaker as long as our BASE advance does not exceed approximately 10* BTDC @ idle RPM, and/or does not fall below 6* (or so) BTDC @ idle RPM.
However, if after checking this, and after
not
being able to acheive both the correct BASE advance and TA simultaneously, our ignition distributors will generally require being sent out to a shop for re-calibration via a Distributor Machine.
Or, we simply replace it with new. Even so, we still perform the check as a safety measure.
.