This will be my third summer with this boat so following the manufacturer's, (Mercruiser Alpha), recommendations I figured I should tackle the raw water impeller. I was not too concerned prior to now as I knew the boat had been maintained extremely well. That said, I have also heard tales and seen images of some nasty looking leg internals so was approaching this venture with some trepidation. I am a millwright (industrial mechanic in some jurisdictions) so have no problem with tools and the mechanical process. I just hate opening stuff up and finding all sorts of unexpected horrors.
I purchased my overhaul kit last week, Sierra brand, $25, not bad I'm thinking.
Nice sunny day today, nothing else on the agenda, I'll have a go.
Drained the oil, looked pretty much as it did last year when I changed it. Located all the fasteners, even the hidden one, and started undoing. Left it hanging on the almost removed 2 centre studs, gave it some judicious raps with the wooden handle of my hammer, and it actually started to separate. I held it up with one hand while removing the two nuts, and it slid easily off. Much lighter than I had been lead to believe. Had my first look inside
, low and behold, it looks like this;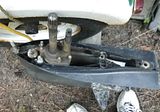 YAY! Not bad thinks I for a 1989 saltwater leg.
Then off comes the pump housing;
Yay once again. Clean, not worn or worse broken.
Quick inspection, then time to put all back. The Sierra kit had many extra parts, though it was simple enough to distinguish the needed from the not. Went back together like a breeze, reinstalled, minor glitch getting the shifter to engage properly, took about an extra 2 minutes.
So, now, $25 lighter, and about an hour and half later, I am one happy camper.
James