Introducing the next generation of stern drive power.
The 4.3 is dead...long live the 4.3. Introducing the new king, Mercury's spanking new 4.5L V6.
Let's discuss the future of stern drives for a moment. This 4.5L engine is the first of a new line of engines that will replace over 90% of Mercury's current offerings. The current 3.0L 4 cylinder, 4.3L V6, 5.0L V8, and 5.7L V8s are, or will soon be, discontinued. In general these reasons are related to what is happening in the auto industry right now, as these engines are based on those applications. Most auto engines are being downsized and are using technology that would raise costs substantially were these turned into marine engines. Additionally, all of these engines are very old and overdue for replacement. Specifically, the 4.3 is Mercury's volume engine, and the block has been out of production from GM for a few years now. GM makes a new 4.3 that is completely unrelated to the current marine 4.3, but again, it is a very high tech engine with a mixture of construction methods (which automaticly means closed cooling, added cost, etc...). The current marine 4.3 is a very rough running, thirsty, and unrefined engine that is not particularly power-dense. It won't meet emissions any more, and....well, it's OLD. It's been around in some form or another since Jimmy Carter was in office. With most boats in the $30,000 to $55,000 range running these V6s, this engine is no longer appropriate as a powerplant for boats with these price tags. Customers are getting into them, starting them up, and immediately notice how unrefined the boat sounds. Time marches on.
While the future for the boats running these engines is cloudy at the moment (I am hearing some big changes coming for the small 3.0L end of the market, as that engine will not be replaced), in general the future is pretty rosy if this 4.5 is anything to go on.
So, lets talk about what this engine is. It is a DIRECT REPLACEMENT for the 4.3L V6 and the lower power 5.0 and 5.7L V8s. The 4.3L is dead and the 5.0 and 5.7s are also not long for this world, so Mercury needed to come up with a stern drive replacement engine. This engine is a completely in-house Mecury design. It is not based on any current engine block, but does utilize the 4.3 bolt patterns and engine mounts, in order to make for plug and play repowers. There will possibly be a lower power version of this engine to cover the 190 hp nodes, and will also cover the more expensive low end models that are currently running the 3.0L 4 cylinder (like lower end Sea Ray models). In plain English, variants of this engine will power everything from higher-priced 3.0L offerings up to the lower end small block V8s. Meet the new high volume Mercury stern drive engine.
One reason why Mercury went in-house for the new engine is cost. Automotive V6s have seen technological leaps made with high tech materials and technologies that may not be ready for marine use. Marinization is very possible with, say, GM's 24 valve 3.6L V6, but direct injection hasn't been tried in a boat before. Additionally, the cost to marinize and offer this engine would make stern drives even more cost prohibitive than they currently are. As a result, Mercury decided to go in house using tried and true V6 technology in a more power dense package. Another reason for going in-house is reputation: Mercury wants to be known as an engine builder, not an engine marinizer. This effort will help Mercury legitimize their legacy, and with an engine that is much higher volume than the current 8.2L big block.
I drove a boat with a new 4.5L V6, a Bayliner 215 Deckboat. I was able to directly compare it to the blue Bayliner 195 Deckboat immediately behind it, running the hoary old 4.3: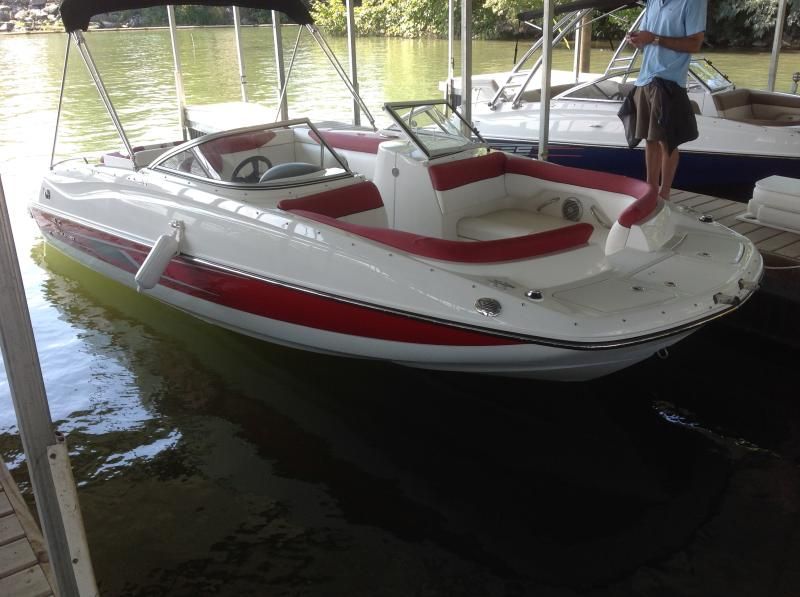 Additionally, I also ran a 642 Overnighter cuddy with a 220 hp 4.3 as well....
...so I had a good baseline of old vs. new.
Now, I grant you that I was comparing separate boats, but I have run enough 4.3s to be a pretty good judge of improvements. The 4.3 is a good engine in terms of it is cheap to buy, cheap to run, parts are ubiquitous, they are easy to fix, and they are pretty bulletproof on the reliability front. The demerits are many, and I spoke to them above - its very unrefined, it feels old, it sounds old, it's thirsty for being small-displacement, it doesn't produce as much hp as it should, and it is a dirty engine.
The engine is a clean and compact installation in the 215. I particularly appreciated major maintenance information clearly placed on a placard right on the front, clearly visible. No more digging for a manual for basic information like maximum RPM. Other maintenance points like power steering and oil filter are directly up front where they are within easy reach:
Jump in the new 215 with the 4.5 and you will notice the difference right away. First thing you notice is the noise, vibration, and harshness issue. The 4.5 is smooth and refined sounding when you start it up. By comparison, the 4.3 jerks and vibrates to life and does not sound like a V6. Performance was also an eye opener. The 4.5 is slightly lighter than the 4.3, and nearly an entire person lighter than the 5.0 V8. In the 215, this resulted in very little bowrise and excellent acceleration, with a minimum planing speed around 2,800 RPM. This is very handy in rougher waters as well as for towing sports. A 5.0L V8 would still be under the planing threshold at the speed in which the 4.5 is on plane. Stretch the 4.5 out to the 5200 RPM redline and the engine remains smooth, composed, and powerful across the entire power band.
The 4.3, by comparison, feels like a hair shirt. In the smaller 195, the stern dug in deeper upon acceleration, crossing the planing threshold took half a second or so longer than the larger 215 did, and it just felt heavy and unrefined. That's not a big deal if you are buying the boat used, or if you bought one back in the early 2000s. It's a very big deal when the sticker of the boat is in the upper $30,000 range.
In fact, about the only complaint I can levy against this engine package isn't the fault of the engine at all, it's the drive. The 4.5 can be paired with either an Alpha One, or any of the Bravo series drives. In my test drive, the 4.5 was paired to the Alpha. The smoothness of the 4.5 belies the age of the Alpha One drive. Look, I have been a vocal critic of the Alpha One in the past, and as time moves on, the drive's antiquated design is getting more and more unaccpetable. Moving from gear to gear results in the typical teeth-chattering grinding clunk, followed by the half-an-engine-stall as you move it out of gear. To a new boater, this is not normal or acceptable behavior, especially if they are coming out of a test drive boat with a Volvo or a Bravo. Mercury: It's time to overhaul the Alpha. "Cheap", "easy to find parts", and "reliable" isn't going to cut it anymore when your outboards are more refined than your more expensive stern drives. You don't have to move to a cone clutch, but do SOMETHING - the Alpha has all the refinement of a drunken ox, and that behavior is not acceptable on a boat costing more than $30,000. While I am griping, it's also time to introduce some parts commonality with the Bravo series when it comes to the transom assembly. There are people out there would would like to upgrade to Bravos at a later date without doing expensive surgery to their boats's transom.
The implications of the 4.5 get even more important as you get into the larger boat size ranges. Where a 27 foot cruiser might usually find twin 5.0L V8s in the engine bay, the new 4.5 will supplant that option and take some 250 lbs off the transom of the boat while still providing similar power. Time will tell how successful the 4.5 will be. A major concern will be the parts and servicability of the new engine, which is a valid concern. However, with this engine set to power everything from 18 foot bowriders to larger twin engine cruisers, I would expect to see this engine around for a very long time, and put into a LOT of different boats. This should help allieviate the parts and servicing concerns.
All hail the king.