First Drive: 2015 Bayliner Element XR7
This changes everything. Again.
I suppose it was inevitable, really. The burgeoning juggernaught that is the pontoon boat market continues to expand at a pace never before seen. With the majority of buyers capable of buying boats going the pontoon boat route, most boat makers have acknowledged the possibility by fielding new models in that space, or redefining old models to compete.
Bayliner, as the largest seller of pleasure boats, is watching the pontoon market intently as it's the only segment of the market showing consistently strong growth across all demographics. How do you make a fiberglass boat relevant to a pontoon customer?
A quick note here: the boat shown is a prototype, and the only one available for test drives. While it's mostly production ready, things like the engine mounting, and final color scheme are likely to change. That's why this is a first drive and not a full test.
The Element Factor
The Element is an unmitigated hit for Bayliner, and will easilly go down in history with the 175, the 1850 Capri, and the original 1986 1950 Capri as a watermark boat for Bayliner. Two years ago I posted one of the first reviews of the original Element. Many here in the club panned the new model as being too dinky, too small, too underpowered. I think it's safe to say nobody outside of those who saw it on reveal day really took it seriously. During the press conference I took note of how excited Bayliner was about this new model. They knew who they were targeting and had done their homework. I asked them point blank if they had another model sitting on the drawing board. They hedged the answer but reading between lines it was very clear that Bayliner was ready to place a lot more equity in the Element line. One year later, the Element and larger Element XL (review to be posted later) have been one of Bayliner's largest success stories, and it is this reason that has triggered the gestation of this new Element XR7. But I think it's safe to say nobody expected this.
The Element Grows Up
So what about the XR7, then? Well it's a 22 foot Element M hull with a pontoon boat layout on top. The boat not only makes no apologies for its pontoon style deck plan, but actively embraces it.....and in doing so makes it rather unique in the market place. (Bayliner exploiting a unique hole in the market....stop me if you have heard this somewhere before...)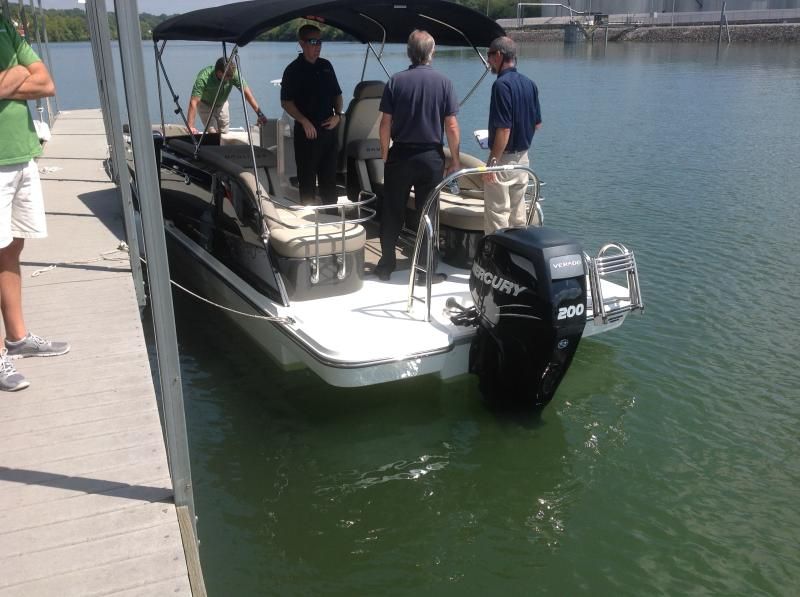 Doing this does a couple of neat things, like present an entirely pontoon-flat deck space, with plush furniture placed on top of instead of down in the hull. This opens the outer sponsons of the M hull up for some truly breathtaking storage options. The in-floor storage for example stretches nearly the entire length of the hull.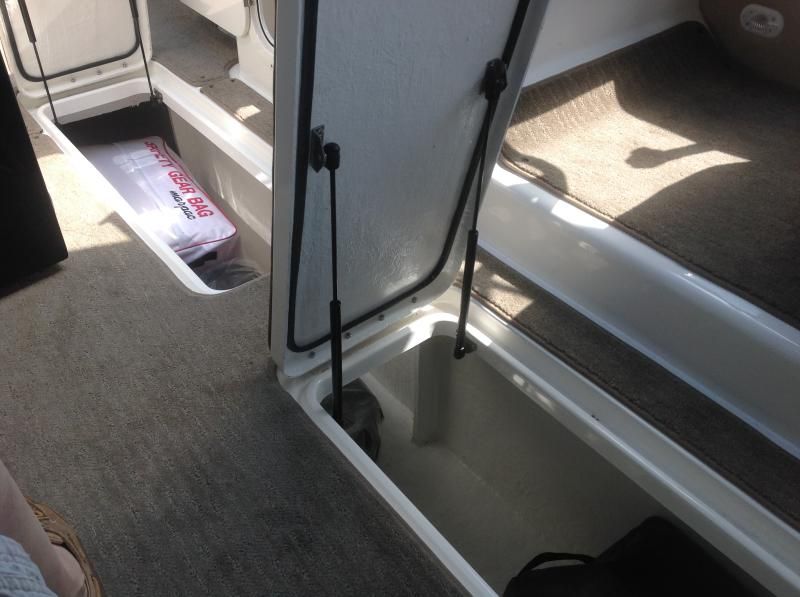 There is a standard enclosed head space backing up to the helm station that is large enough to stretch your legs out in and sit awhile.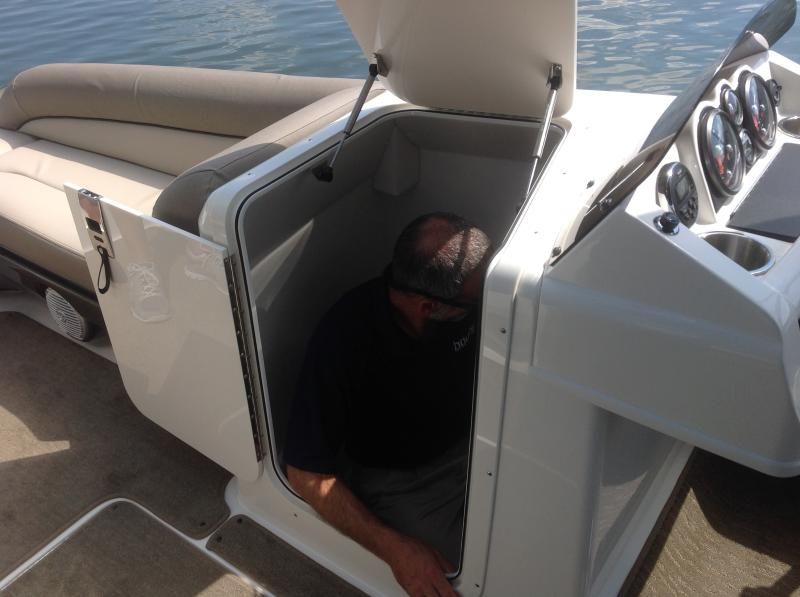 It also has a standard food prep area that can be optioned with a fridge (complete with shore power) and a sink.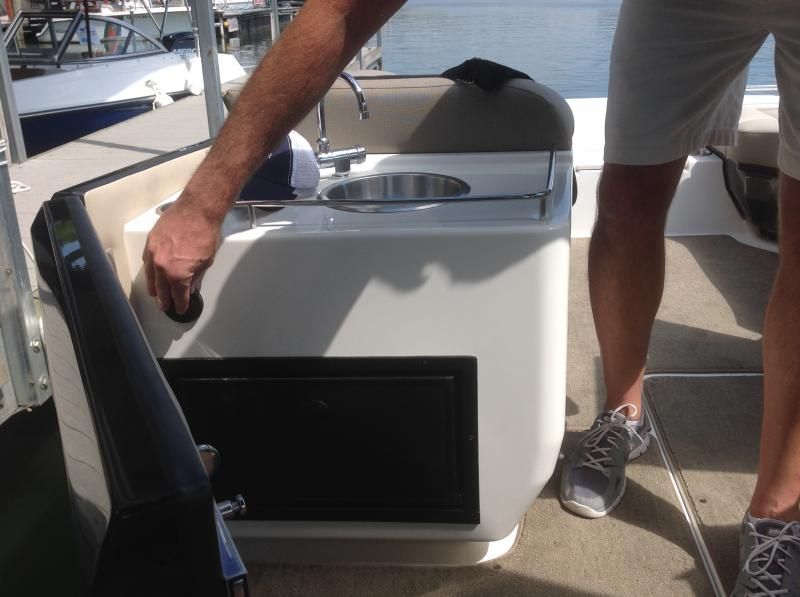 Other unique features to the boat are a fence and gated entrance like a pontoon boat, and plush full bucket seat for the helm station. The upholstery itself is also a cut above what you are used to - embroidered and very supple. You definitely sink into the seats.
The hull has another key benefit of providing similar dynamics to a pontoon boat without the drawbacks. The raised forward deck provides for rough water safety, for example. Fiberglass adds durability and a true planing surface. Bayliner is very clear on the boat's mission: target mid priced triple log pontoon boats and Hurricane deck boat intenders, and on this I believe they have hit the mark.
Hitting the Water
So what's it like when you kill the PowerPoint slides and board the boat? It is remarkably stable, for one. You aren't thrown around like on other 22 footers when someone else steps on. Another thing you notice is it is yet another in the long string of Bayliners that have intelligent use of space ...you'd be hard pressed to guess it is a 22 foot hull. It feels like a 24 footer. We had 6 people on board walking around, and no one complained about a lack of space.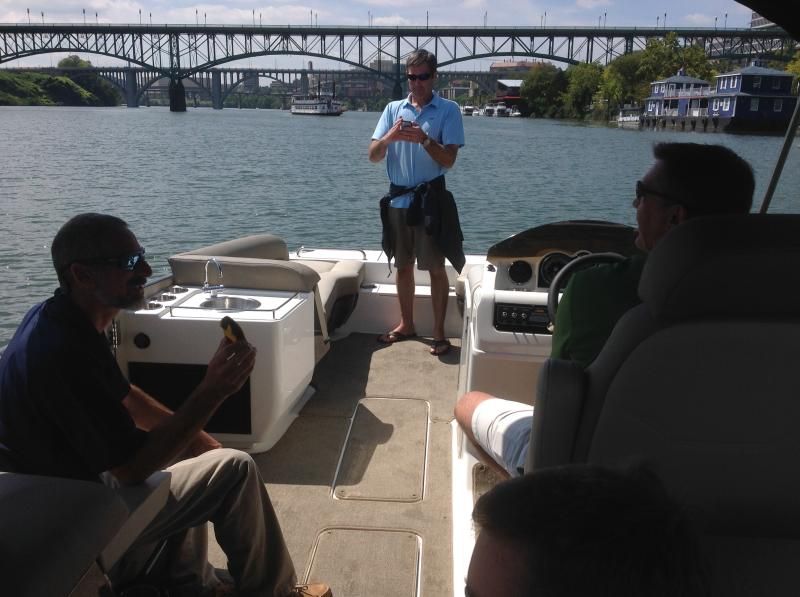 The enclosed head and full length storage compartment are positively massive. You could dock this in Midtown Manhattan and your coworkers will be jealous because you have nicer digs than they do.
Remember I said this boat is a prototype. The performance was definitely still TBD, with dialing in needed, so please take these comments with a grain of salt. Due to time crunches, Bayliner development rushed the rigging of this particular boat to make the press day...such is the way of working with prototypes. As a result, I expected better performance. Powered with a 200 HP Verado, time to plane was in the 7 second range, and it required a deft touch on the trim switch to keep the boat from porposing off the river into low Earth orbit. Once stabilized, we saw respectable speeds just south of 40 mph. Beyond that, however, the M hull was clearly the right choice for this boat. Cornering is smooth, safe, and stable with a minimum of yaw and bow rise. It's not sporty, but for a boat that will go up against triple-log pontoons, it's pretty entertaining. Again, with the front entry being a fiberglass boat and not a couple of aluminum logs, this thing should be able to take some rougher water, if not necessarilly comfortably. The word "safety" comes to mind here, and if I were in this market that alone would be the "buy" trigger for me.
Optional engines are still to be determined. I pushed hard for twin 300 hp Verados, which was "taken on advisement" after the waiter was informed to cut me off. There could be some higher horsepower nodes offered, but I imagine the 200 will be all anyone needs for this boat. I look forward to a full test once the engine height issue is resolved (if it hasn't been already).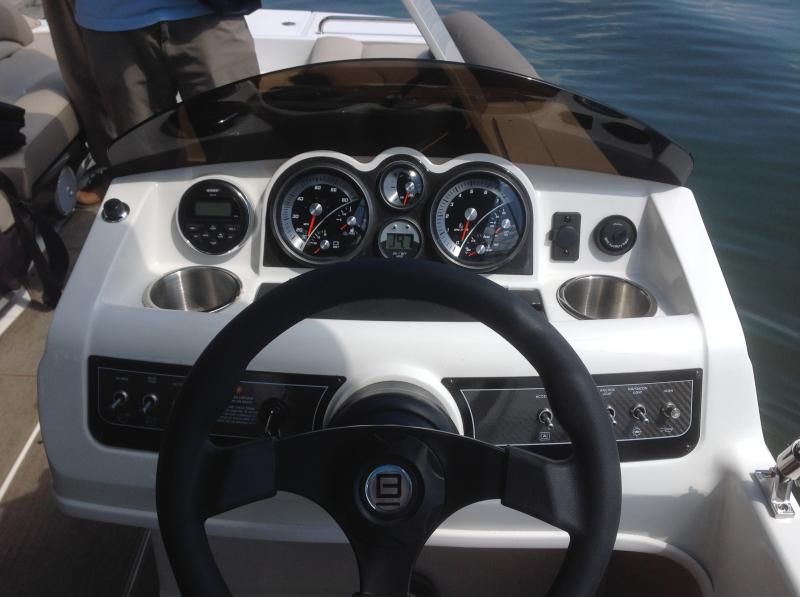 So....Do You Want One?
This is the point where I usually weigh in with my personal opinion. With full respect to Bayliner, this boat is not to my taste. I prefer higher performance V hull runabouts and I am willing to trade space and comfort to get it...which pretty much automatically disqualifies me from being the target for this boat.
That being said, the market opportunity is obviously massive. Nobody else has attempted a direct pontoon competitior out of fiberglass like this. This is the boat that the majority of boat buyers are clamoring for. The feature count and space is absolutely staggering, it's supremely comfortable, and it is even going to be reasonably priced. Suggested retail prices on the boat as shown are pegged to be "below $35,000", and at that price I believe the boat is a screaming bargain with a capital S. Bear in mind that's about what a well equipped 190DB is going for right now. It even looks very upmarket, with excellent fit and finish.....even for a prototype.
Based on the design brief, I fully believe Bayliner has another hit on its hands here, and I wish them well. If you are looking into pontoon boats for your next boat, I strongly recommend giving this a look.
You can check out the XR7 at your local boat show in January. As always, Bayliner, thank you for getting the BOC involved in the launch.